The Surroundings
Chianti
The part of Chianti region located between Florence and Siena  is one of the most popular areas in the world for its wine and olive oil production.
The delicate alternation of valleys and hills and stone villages, churches and castles make this area full of charm and magic.
The amazing Chianti region offers pleasant temperatures in Summer and stunningly colored landscapes from the lush green of the fields in Spring and Summer to the warm red, yellow and brown nuances in Autumn.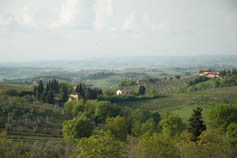 The fields in Summer and Spring are sprinkled with golden wheat sheaves against the dark blue sky. And again from May to July,the blue of the sky with its light variations of color combines with the scarlet red of the poppies and the yellow of the brooms painting the most artistic landscape.
Emotions arise from the deep red and the dark green shading to brown which paint  the vineyards in Autumn.
The white of the snow superbly closes the years of colors in Winter.
Rich in traditions the Chianti region offers picturesque landscapes of fields, forests, vineyards and olive groves.
Farms and old farmhouses, surrounded by the typical cypress trees, are spread throughout the region offering a natural framework to the visitor's sight.
Chianti is also rich in castles of great historical importance like the Brolio or the Meleto Castles.
The stunning beauty of this region can be fully appreciated  when driving the roads leading to Castellina in Chianti, Greve and Gaiole: the famous Wine and Castle Route.
In Summertime you can find a great number of performances, concerts, opera or theatre events, all around the small  towns and villages and famous are the Medieval Festivals of San Gimignano, Monteriggioni and Certaldo.
The sunset floods slopes and valleys with the warm, golden colors of the incoming evening: enjoy this relaxing  experience from the open terraces of one of the many typical restaurants.
Tuscan cooking, so simple and varied, is an heritage of the old rural style of life. Visitors cannot give up the classical steak "alla fiorentina", the 'arrosto', a mixture of different spicy roasted meat sorts, the  wine and the olive oil, produced with care for centuries.
Summertime is also animated by themed  or town festivals, celebrating the local products of each area, like mushrooms, wild boar,  bread-and-vegetable soup, different sorts of cheese and many other sorts of typical and genuine food.
The Chianti area is also famous for its many trails, perfect for trekking, hiking and mountain biking fans.The surroundings offer many facilities for horse-rides, golf, tennis and even a balloon-ride.