The Surroundings
San Gimignano
Declared by UNESCO to be part of the World's Architectural Heritage, San Gimignano is a beautiful  medieval city. Strategic and wealthy during the Middle Ages thanks to the "Via Francigena", the trading and pilgrim's route that crossed it, San Gimignano  offers excellent works of art inside its many churches and monasteries. 
In its heydays  San Gimignano had 72 towered houses, partially destroyed in wars and battles. These towers were to represent the wealth and splendor of the city and the remaining 15 towers still offer a fascinating sight to any visitor.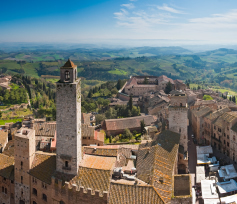 The Torre Grossa (Big Tower) with its 54 meters is the tallest among these 15 towers  and is located in the  Piazza del Duomo (Cathedral Square) next to the Palazzo Nuovo del Podestà .
The Duomo or Collegiate Church, is the cathedral of San Gimignano and is adorned with valuable frescoes  and works of art by the Ghirlandaio and other artists of the Florentine School.
Il Palazzo Comunale (the People's Palace) houses inside  a Dante's Hall, celebrating Dante's visit to the town  in 1300 as the Ambassador of the Guelph League in Tuscany.
A place of interest, the Archeological Museum features Etruscan, Roman and Medieval findings from the town and the surrounding areas.
The Museo Civico (City Museum)  and the Pinacoteca (Art Gallery)  both feature important works of art of famous  artists such as Pinturicchio.
Definitely worth a visit is the Spezieria (Apothecary) of San Gimignano, reproducing the techniques of an antique pharmacy with original objects and medications of the Spezieria dello Spedale di Santa Fina (Hospital Pharmacy of Santa Fina).
In San Gimignano you can also visit a Gallery of Modern and Contemporary Art.
This medieval town is also notoriously famous for its Vernaccia, a white wine of excellence, fine and pleasant, to be tasted while enjoying a Tuscan sunset from one of the many restaurants and wine bars in town.