The Surroundings
Siena
Same as San Gimignano, Siena has been declared by UNESCO to be part of the World's Architectural Heritage.
Surrounded by beautiful medieval palaces the Piazza del Campo (The Campo Square) was the market site for many centuries and it still is the heart of the city.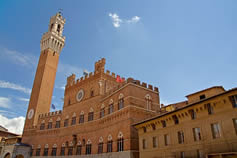 All around this worldwide famous shell-shaped square, splendid palaces show their elegant and artistic facades, facing the Palazzo Pubblico, today the Town Hall of Siena, with its fascinating Torre del Mangia.
Black and white, The Duomo (Cathedral) of Siena is among the finest examples of the Romanesque-Gothic style in Europe. Extremely rich in  works of art and masterpieces, the cathedral houses, among many others pieces of art, sculptures of Michelangelo and Donatello.
With its great number of museums and art galleries, such as the Museo dell'Opera Metropolitana del Duomo (the Cathedral's Museum), La Pinacoteca Nazionale ( The National Art Gallery) and the Santa Maria della Scala's museal complex,  Siena is truly an extraordinary city for its invaluable artistic heritage.
The Palio is, of course, the main and most famous attraction in the city. The Palio of Siena,  in addition of being  an important historical event which originated from an ancient medieval joust, is primarily the representation of a typical Sienese tradition and deeply rooted in the city life since centuries.
Every year the horse race among the historical Contradas takes place on July 2nd and August 16th, when the city hosts thousands of tourists and visitors, offering them all the charms of its historical traditions.
But Siena is not only its Palio, it also offers museums and Renaissance palaces, first of all the Palazzo Piccolomini e delle Papesse, perhaps the most beautiful palace in Siena.