The Surroundings
Volterra
Famous all over the world as "the City of Alabaster", Volterra fascinates visitors with its unique and suggestive atmosphere.
Its Etruscan origins still have significant evidence in monuments like the Cinta Muraria (City Walls), la Porta dell'Arco (Arch Gate) perfectly preserved, la Porta Diana (Diana's Gate) and the Old Town.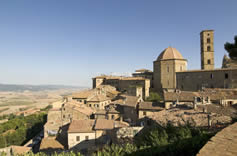 Many are the Roman Ruins and the splendid medieval buildings like the Cathedral and the Palazzo dei Priori, both overlooking one of the most beautiful squares in Tuscany.
Do not forget  a visit to the Etruscan Museum, featuring the worldwide famous Ombra della Sera (Evening Shadow), along with beautiful jewels and invaluable archeological findings.
Also essential to visit is the Medici Fortress and the fantastic Roman Theatre.
Volterra also means happenings and important Festivals. Not to be missed is the successful VolterraTeatro Festival, attracting many visitors every year in July and considered one of the best multidisciplinary events in Italy with its unforgettable performances of dance, theatre, poetry, art and culture.
Jazz lovers will surely appreciate the Volterra Jazz Festival, which takes place in the first fortnight of August,  and enjoy the different  concerts and performances.