The Surroundings
Florence
The cradle of the Renaissance and Italian art needs no introduction.
Many museums of Florence like the Uffizi or the Museo dell'Opera have worldwide significance.
The walk along the monuments of the old town leads to the famous Ponte Vecchio with its renowned shops of jewelry.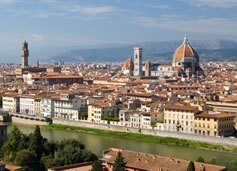 Piazza della Signoria  is the heart of Florence, overlooked by the majestic Palazzo Vecchio. 
The monuments and palaces to visit are really a lot: from the Duomo (Cathedral) with its famous dome by Brunelleschi and Giotto's bell tower, to Buonarroti's House, the Uffizi Palace and the Palazzo della Signoria.
Absolute musts are the visits to Piazzale Michelangelo for stunning views over the city and to the Boboli Gardens.
The center of Florence offers many opportunities for shopping with its haute-couture boutiques as well as stalls and local markets.
Numerous historical cafés and live-music  bars, along with  typical restaurants and trattorias offer entertainment and fun.
The hills surrounding Florence are the best place to admire the beauty of this city with its medieval walls. From the hill of Fiesole, in particular, you can enjoy one of the best views over the valley of the River Arno.