The Surroundings
Monteriggioni
A small village built by the Sienese in 1200 to control the Via Francigena, Monteriggioni is located on top of a hill. From this strategic location Siena could also control its historical enemy, Florence, which was going through a period of powerful expansion.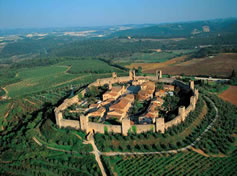 Monteriggioni is one of the most famous turreted villages in Italy. Its reputation in Middle Ages was so high that Dante  mentioned its name in a Canto of his Inferno (Hell).
Crossed by tiny narrow streets lined with charming stone houses, Monteriggioni  fascinates the visitors with all the charm and magic of the medieval atmosphere.
Walking on the fortress walls the eye is lost in the surrounding countryside with the typical colors of a Tuscan landscape.
The Monteriggioni Castle is among the most beautiful and suggestive castles in Tuscany and plenty of events takes place amid its ancient walls like medieval festivals, historical re-enactments or events of great cultural significance and dedicated to the Via Francigena.